I've been keeping my eyes on Craigslist for several months now, looking for an original Ford Four-Seasons topper (a.k.a. camper shell, canopy). These were Leer toppers which were constructed specifically for the '73-'79 trucks, to match the more-angular rear cab wall. I occasionally do run across them, but they're usually too far away to be feasible for pick-up. I did find one listed last week in a city about 250 miles away and was just about ready to call the seller and discuss purchasing it from him, when last Friday night I ran across a Craigslist posting by a local salvage yard about 80 miles away. In this ad, they stated they had a bunch of toppers that they simply wanted to give away. These four pictures were posted in the ad: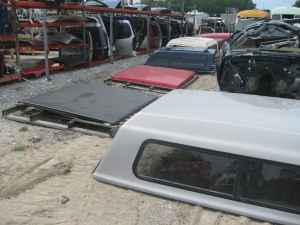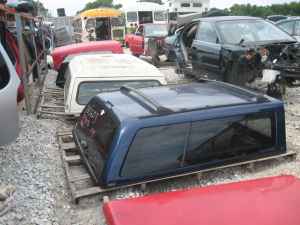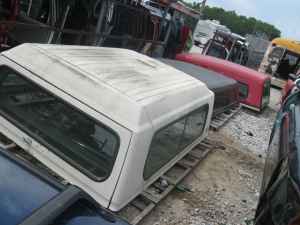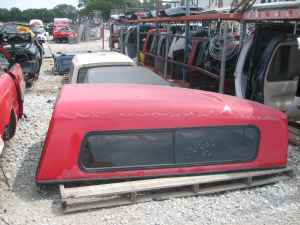 Looking at these small pictures, I could tell immediately that the white one was indeed a Four Seasons topper! I was excited, until I read in the ad that this yard was only open Monday-Friday...and I was reading this on Friday night...which meant I had to wait until Monday to go get it. I was excited, so it was a long weekend hoping nobody would get to it first!
It was going to be a slow day at work today, I called into work first thing this morning and told them I wouldn't be in until after lunch. I then hopped in the truck and headed out to the local car/truck accessories shop to get some hold-down clamps, and then I hit the road. (And I have to admit I did push the speed limit a bit getting there!)
Upon arrival, I ran out to where the toppers were stored and was excited to still see the white one sitting there. I was allowed to drive my truck into the yard, and four employees helped me lift it up onto my truck....and I left with my new treasure.
After work this evening, I pumped close to $10 into the high-pressure washer at the car wash and got it pretty cleaned up. There's still a little dirt on top that I couldn't seem to reach, so I'm going to have to head back to the car wash with my step ladder.
And there's still a bunch of inside clean-up that needs to be done, as well as a few battle scar repairs that will be needed...but hey, for free, it ain't half bad!
Anyway, here's a bunch of pics of the topper. You can click on all these thumbnails to enlarge. I purposely left the linked images as high-resolution shots to show the most detail.
| | |
| --- | --- |
| Fig. 01 | Fig. 02 |
| Fig. 03 | Fig. 04 - This is a close-up of the Four Seasons medallion on the right side. Unfortunately, the left-side emblem is damaged, so I'll be looking for one of those. A couple NOS emblems would be great! |
| Fig. 05 - Here's a shot of the inside. You can see the roof vent towards the front. | Fig. 06 - The left-side strut. Both struts work great and hold the lid up just fine, and collapse as required. |
| Fig. 07 - All four corners have reinforced corners for the factory-style J-hooks which hold the topper down. I'll also be looking for a set of those. In the meantime, the cheap universal-fit aluminum clamps will have to suffice. | Fig. 08 - I spotted this label on the inner roof just above the rear door. |
| Fig. 09 - Here's a close-up shot of the outside to show the factory texture. | Fig. 10 - A close-up of the closed roof vent. |
| Fig. 11 - The open roof vent. | Fig. 12 - Talk about luck! The date code on the glass (1975) matches the truck! |
Sometime over the next week or so, I'm going to put together a webpage which shows the exploded-view schematic of this topper as printed in the Master Parts Catalog (MPC) along with a complete listing of all the Ford part numbers. This will enable me (and others) to start searching for any NOS parts that might be still at the obsolete parts dealer's warehouse. Things I'll be looking for include the emblems on each side, the window gaskets and the rubber seal which goes between the topper and the bed.
However...while all of this is good and everything, there could be a change of plans. A friend of mine also has a factory Four Seasons topper on his project truck but says he doesn't want it. He said he'd sell it to me, since he'll never use it...we just need to sit down and discuss price. It's been sitting on the back of a truck that's been sitting in a grove of trees for years, and it's covered with tree sap and lichens. I'm pretty sure it'll clean up...which will be good for one many reason. My topper does have a few battle scars that will need to be repaired with fiberglass, while his is (I believe) in good structural shape, although very dirty. Anyway, it's entirely possible that today's freebie topper will become a parts donor for his shell. I'm not sure yet, but it's possible. Here's a shot of his: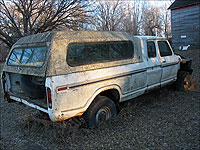 As you can see, it's pretty dirty, but I've tried rubbing some of those lichens off and they're not attached too firmly, so I believe this will power-wash up very nicely. I'll probably talk to him over the next few days to get a sense of what kind of dent in the pocketbook his will cost me and then make a decision whether to fix/detail this one or combine the two into a single good topper.